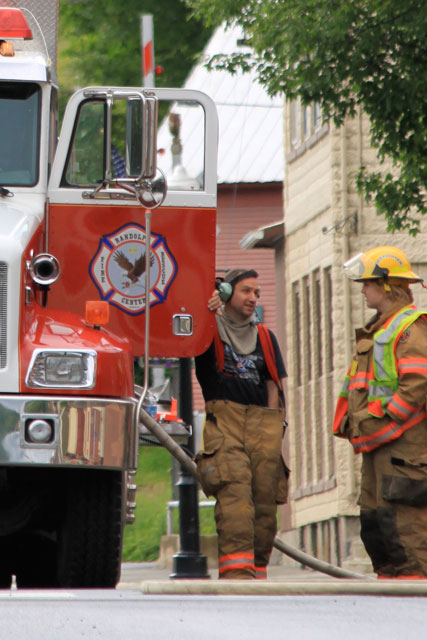 FF Dale Barnard, classmate of Barb's, leaning on a Peterbilt/ New Lexington tanker-pumper that Firetec found for Randolph Center VFD. (Formerly served Albion, PA!)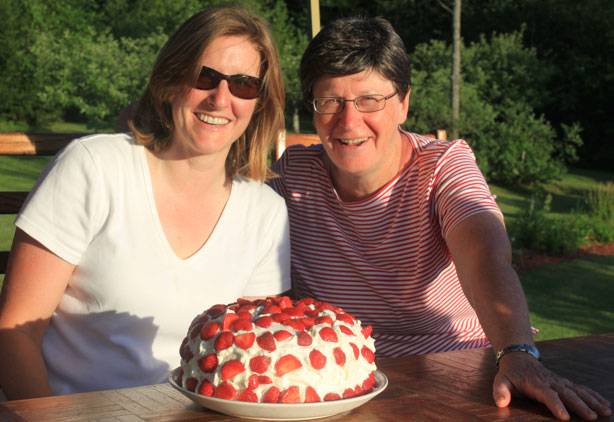 Jen's birthday surprise was a visit from Jean Rank of Firehouse Magazine.
About Us

Who we are
Firetec Used Apparatus Sales is a used apparatus broker that offers the largest and best selection of high-quality used vehicles. We give our customers choices from all over the country, and we connect buyers and sellers directly with each other to negotiate your own deal. We broker an honest deal and disclose all the facts, so our buyers and sellers are never surprised.
We partner with you in the search for the right apparatus. We take the time to understand what you're looking for. Then we personally watch for the right fit for your requirements and always alert you if there's a listing that might work for me.
We are friendly, responsive and really take care of our customers.
What We Do
Firetec offers the best opportunity in the used fire apparatus business for both buyers and sellers. We help sellers find the right buyer at the right price. We help buyers find the right truck at the right price.
We reach more potential buyers than anyone through our exceptional nationwide marketing program. We reach 80,000+ potential buyers through our web site, 33,000 through our full-color catalog, and 15,000 with our e-newsletter. We also update our web site daily with the latest listings.
What does that mean for you? That we tend to have high quality listings and sell trucks faster than anyone. And, we make it an easy, hassle-free experience.
Contact us today to list your apparatus!

| | |
| --- | --- |
| | |
| Barb's sister, Kate driving the local Tech Center's Hahn in the 4th of July parade. | We are fortunate to be able to serve the entire country from smalltown America. Thank you for your kind words, repeat business and for counting on us for the right truck and real results! |
Main Office
PO Box 177 Randolph VT 05060
Toll Free: (800) FIRETEC (347-3832)
Voice: (802) 728-9226
Fax: (802) 728-9206
E-Mail:
firetec@firetec.com
"Page Design, Layout, and Content are Copyright© The word Firetec® is a Registered Trademark. Neither the name Firetec® nor the logo images may be reproduced in any way in connection with the fire service or firefighting industry or in any advertising or display."
Privacy Policy
This Privacy Policy governs the manner in which Firetec collects, uses, maintains and discloses information collected from users (each, a "User") of the http://www.firetec.com/ website ("Site"). This privacy policy applies to the Site and all products and services offered by Firetec.
Personal identification information
We may collect personal identification information from Users in a variety of ways in connection with activities, services, features or resources we make available on our Site.. Users may visit our Site anonymously. We will collect personal identification information from Users only if they voluntarily submit such information to us. Users can always refuse to supply personally identification information, except that it may prevent them from engaging in certain Site related activities.
Non-personal identification information
We may collect non-personal identification information about Users whenever they interact with our Site. Non-personal identification information may include the browser name, the type of computer and technical information about Users means of connection to our Site, such as the operating system and the Internet service providers utilized and other similar information.
Web browser cookies
Our Site may use "cookies" to enhance User experience. User's web browser places cookies on their hard drive for record-keeping purposes and sometimes to track information about them. User may choose to set their web browser to refuse cookies, or to alert you when cookies are being sent. If they do so, note that some parts of the Site may not function properly.
How we use collected information
Firetec collects and uses Users personal information for the following purposes:
* - To personalize user experience We may use information in the aggregate to understand how our Users as a group use the services and resources provided on our Site.

How we protect your information

We adopt appropriate data collection, storage and processing practices and security measures to protect against unauthorized access, alteration, disclosure or destruction of your personal information, username, password, transaction information and data stored on our Site.

Sharing your personal information

We do not sell, trade, or rent Users personal identification information to others. We may share generic aggregated demographic information not linked to any personal identification information regarding visitors and users with our business partners, trusted affiliates and advertisers for the purposes outlined above.

Google Adsense

Some of the ads may be served by Google. Google's use of the DART cookie enables it to serve ads to Users based on their visit to our Site and other sites on the Internet. DART uses "non personally identifiable information" and does NOT track personal information about you, such as your name, email address, physical address, etc. You may opt out of the use of the DART cookie by visiting the Google ad and content network privacy policy at http://www.google.com/privacy_ads.html

Changes to this privacy policy

Firetec has the discretion to update this privacy policy at any time. When we do, we will revise the updated date at the bottom of this page. We encourage Users to frequently check this page for any changes to stay informed about how we are helping to protect the personal information we collect. You acknowledge and agree that it is your responsibility to review this privacy policy periodically and become aware of modifications.

Your acceptance of these terms

By using this Site, you signify your acceptance of this policy. If you do not agree to this policy, please do not use our Site. Your continued use of the Site following the posting of changes to this policy will be deemed your acceptance of those changes.

Contacting us

If you have any questions about this Privacy Policy, the practices of this site, or your dealings with this site, please contact us at: Firetec http://www.firetec.com/


This document was last updated on May 07, 2012

Firetec provides marketing services. It does not own, purchase or sell listed trucks or equipment. All information is provided by sellers, who are independent third parties solely responsible for the content. Firetec does not independently verify information provided by sellers, makes no claims or warranties as to its accuracy and all information is subject to review and verification by potential buyers. All apparatus sold as-is, where-is. Buyer responsible for transportation.